---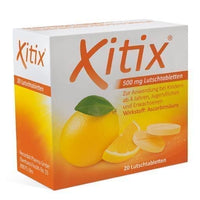 Sale
vitamin C deficiency Xitix 
®
 500 mg lozenges
vitamin C deficiency Active ingredient:
ascorbic acid. Areas of application: Xitix is ​​taken to treat vitamin C deficiency diseases. (Prescorbut, scurvy, Moeller-Barlow disease) and for the prophylaxis of vitamin C deficiency diseases that cannot be remedied in terms of nutrition.
Warnings:
Contains yellow orange S (E110) and sucrose (sugar).
Note leaflet. Status: February 2021. Marketing authorization holder: Recordati Pharma GmbH, 89075 Ulm. 
For vitamin C deficiency information on risks and side effects, read the package insert and ask your doctor or pharmacist.
---