---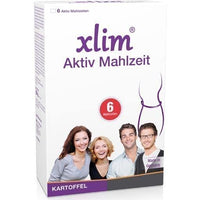 Sale
Meal replacement for weight control

Substituting two daily meals as part of a low-calorie diet by such meal replacements contributes to weight loss. Replacing one of the daily meals as part of a low-calorie diet with such a meal replacement will help maintain weight after weight loss.

- High protein content
- Source of fiber
- Essential nutrients

The xlim active meal contains important vitamins and minerals as well as high-quality milk protein. Calcium, iron, iodine, copper, phosphorus, manganese, vitamin C and the B vitamins pantothenic acid, niacin, biotin, thiamine (B1), riboflavin (B2), B6 ​​and B12 contribute to normal energy metabolism. Biotin contributes to the normal metabolism of macronutrients. Zinc contributes to a normal acid-base metabolism, to a normal carbohydrate metabolism as well as to normal protein synthesis and normal fatty acid metabolism. Proteins contribute to an increase in muscle mass and to the maintenance of muscle mass.

Traces of gluten and egg protein cannot be ruled out. Low in lactose.

Meal replacement for weight control Preparation advice:
To prepare an xlim Active Meal Potato, stir 1 sachet of 55 g xlim Active Meal Potato powder into 300 ml of hot water and stir well. Take your time for consumption.

Make sure that you take breaks of 4 to 6 hours between meals. Drink at least 2 to 3 liters of low-calorie beverages (e.g. mineral water) every day.

xlim Active Meal only fulfills the intended purpose in the context of a low-calorie diet. Other foods must be part of this diet. Make sure you have a varied, balanced diet and a healthy lifestyle. A weight-controlled diet is only possible if the preparation instructions are followed.
Meal replacement for weight control Food for special medical purposes (balanced diet)