---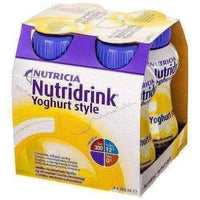 Sale
High energy drink Nutridrink Yogurt Style is a product for people who, due to illness or other factors are at risk of malnutrition. With difficult eating traditional food preparation to support the delivery of key ingredients.
Composition:
The degreased yoghurt (49%), water, glucose syrup, sucrose, whey protein (from milk), vegetable oils (rapeseed oil, sunflower oil), acidity regulator (citric acid), stabilizer (pectin), sodium citrate, flavoring dihydrogen phosphate, potassium citrate, choline chloride, carotenoids - including lecithin (beta-carotene, lutein, lycopene), sodium chloride, magnesium hydroxide, sodium L-ascorbate, calcium hydroxide, calcium lactate, iron (II) sulfate, zinc nicotinamide, retinyl acetate, colorant (curcumin) gluconate, copper (II) sulfate, manganese acetate, DL-alpha-tocopherol, D-calcium pantothenate, selenate (IV), sodium D-biotin, folic acid, cholecalciferol, pyridoxine hydrochloride, thiamine hydrochloride, potassium iodide, riboflavin, phytomenadione chloride, chromium (III), molybdate (VI) solution.
Nutritional value 100ml: energy value - 630kJ / 150kcal protein - 5,9g, carbohydrates - 18,7g, including sugars - 10.8 g lactose - 2.6 g fat - 5.8g, including: saturated acids - 0.8g, fiber - 0g, salt - 0.26 g. The content of ingredients in 100 ml: sodium - 105mg, potassium - 201mg, chlorine - 130mg, calcium - 108mg, phosphorus - 108mg, magnesium - 34mg, iron - 2,4mg, zinc - 1,8mg, copper - 270mcg, manganese - 0,49mg fluorine - 0,15mg, molybdenum - 15mcg, selenium - 8,5mcg, chromium - 10mcg, iodine - 20 mcg vitamin A - 122mcg (retinol equivalent), vitamin D - 1mcg, vitamin E - 1,9mg (equivalent of alpha-tocopherol ), vitamin K - 7,9mcg, thiamine - 0,22mg, riboflavin - 0,24mg, niacin - 2,7mg (equivalent niacin), pantothenic acid - 0,79mg, vitamin B6 - 0.25 mg, folic acid - 40mcg, vitamin B12 - 0,31mcg, biotin - 6mcg, vitamin C - 15mg, choline - 55mg, carotenoids - 0,30mg. Osmolarity: 740mOsmol / L.
Action:
Ready-to-drink beverage that contains all the necessary ingredients, in addition, in an optimum ratio. We are fat, protein, carbohydrates, minerals and vitamins. High energy nutritional formulations Nutridrink Style Yoghurt can be used as a supplement to a normal diet, however, it is formulated such that it can freely replace normal meals. Thanks to liquid form it is much easier to accept people with swallowing problems. Yoghurt drink with a delicious lemon-vanilla flavor.
Application:
Dietary food for special medical purposes Nutridrink Yoghurt T vanilla-lemon intended for use in the dietary management of malnutrition: during convalescence after surgery, in preparation for treatment (eg. Colonoscopy), chronic diseases (eg. Huntington's disease, Parkinson's, Alzheimer's, dementia other bands), and cerebral palsy, and in anorexia nervosa, and in the case of an unintended, excessive loss of body weight, problems with swallowing, in dysphagia.
Additional information:
Suitable for use as a sole source of nutrition. Keep out of reach of children, at about 5-25st. C. Once opened, store in the refrigerator, use within 24 hours (unless the drink was not consumed directly from the bottle). It is not suitable for parenteral use. Gluten-free. It contains soy and milk protein. For children 3 to 6 years of age should be careful, it is recommended to be administered only as a dietary supplement.
Contraindications
not be used in case of hypersensitivity to any component of the formulation. Do not use in children under 3 years of age. Do not use in patients with lactose intolerance, as well as in the case of fructosemia and galactosemia.
How to use:
Use under medical supervision. As the only source of food: 5-7 packs a day. As a dietary supplement: up to 3 packs a day. The drink is ready for direct consumption. Is preferably administered after cooling. Shake before drinking. Do not exceed recommended servings for consumption during the day.
Net volume: 800ml.