---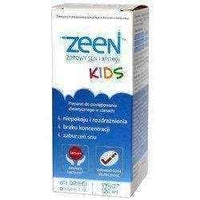 Sale
Children often have trouble concentrating or trouble sleeping, the solution may be innovative preparation Zeen Kids. It contains a patented ingredient Lactium, which helps keep calm and healthy sleep. For children from 3 years of age.
Ingredients:
water, sucrose, fructose, Lactium® (casein hydrolyzate containing bioactive decapeptides), thickening agent: xanthan gum; acidity regulator: citric acid; caramel flavor, preservative sodium benzoate, potassium sorbate; pyridoxine hydrochloride (vitamin B6). It comprise sugars.
Nutritional value 5ml: energy value - 16,8kJ / 4kcal fat - 0g, including: unsaturated fatty acids - 0g, carbohydrate - 0.9g, including sugars - 0.9g, fiber - 0g, protein - 0 1g salt - 0g, Lactium - 50mg vitamin B6 - 1,4mg (100% of the recommended daily intake).
Action:
The active ingredient in syrup Zeen Kids is Lactium, which is obtained through a biotechnology process casein hydrolyzate containing bioactive decapeptides. This substance shows sedative properties, as demonstrated in the course of many years of research.The mechanism of action is based on the binding molecules Lactium receptors in the central nervous system, resulting in the preparation of sedative, hypnotic and relaxing. Zeen Kids is safe, it does not cause adverse reactions of the body such as dementia or haze. What is particularly important, even with long-term use is not addictive. Lactium patented ingredient has GRAS status of safety. An additional advantage of the use of the syrup Zeen Kids is a beneficial effect on reducing symptoms of food-induced stress or anxiety, eg. Abdominal pain. In children of school age supports the maintenance of concentration.
Application:
Dietary food for special medical purposes Kids Zeen designed for the dietary management in case of sleep disorders, problems with concentration and in the states of anxiety and irritability. It can be used in children over 3 years of age. Take under medical supervision.
Additional information:
Not suitable for parenteral use, and as the only source of food. Keep out of the reach of children.
Contraindications:
Do not use in case of hypersensitivity to any component of syrup.
Usage:
Unless your doctor tells you otherwise - Children from 3 to 6 years: 5ml syrup given day. Children from 7 to 12 years of age: take 10ml a day.Children over 12 years of age: take 15ml a day. Shake before use. With the help of the included cup measure, an aliquot of syrup. Your child should take about an hour before bedtime. Do not administer with other fluids.
---