---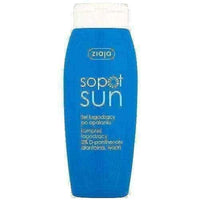 Sale
Cleansing gel, sunburn. Excessive exposure to the sun or unmatched atmospheric conditions may result in sunburn.

This baking and redness will help to reduce the soothing gel after sunburn Ziaja Sopot Sun.
Ingredients:
Aqua (Water), panthenol, PEG-40 Hydrogenated Castor Oil, Phenoxyethanol, Methylparaben, Ethylparaben, Propylene Glycol, Allantoin, retinyl palmitate, Calcium Gluconate, Carbomer, 2-Bromo-2-nitropropane-1,3-diol, Parfum (Fragrance), Sodium Hydroxide.
Action:
Ziaja Sopot Sun soothing sunscreen contains calcium, allantoin, provitamin B5 and vitamin A. It effectively soothes the epidermis caused by the excessive amount of sunlight, soothes and protects it. Irritated skin is immediately healed. Gel neutralizes the consequences of insufficient skin protection. Vitamin A supports regeneration and regeneration.
Function:
Ziaja Sopot Sun gel after-sun soothing recommended for use after each exposure to the sun.
Additional Information:
The gel has been dermatologically and allergically tested.
Contraindications
not be used in case of hypersensitivity to any component of the gel.
Usage:
Spread the gel evenly over the skin. It is recommended to use after each sun bath. Remember to use suitable sunscreen, eg Sopot Sun.