---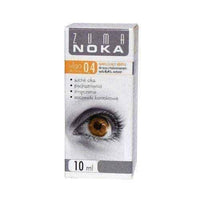 Sale
ZUMA NOKA relief eye drops 0.4% is a moisturizing product that effectively relieves irritation, burning and redness of the eye.

It is moisturizing and remove the symptoms of dry eye.
Composition:
sodium hyaluronate 0.4%, glycerin, disodium phosphate, sodium chloride, cetrimide, sodium dihydrogen phosphate, czterosodu edetate, sodium hydroxide, purified water.
Action:
ZUMA NOKA relief eye drops of 0.4% moisturizing product is intended for topical use. It helps to alleviate problems associated with dry eye. It contains sodium hyaluronate, which has physical properties, viscoelastic properties, and has the unique ability to adhere to the cornea. Dramatically improves the stability of the tear fluid and visual comfort. It moisturizes. It brings a clear relief irritations, fatigue and congestion of the eye, caused by the impact of external factors (long sitting at the computer, wind, sun, salt water, dry air or air-conditioning). ZUMA NOKA relief for the eyes to prevent irritation of the conjunctiva while wearing contact lenses.
Contraindications:
- Hypersensitivity to the preparation Components
- bacterial, fungal or viral inflammation of the eye
- the use of post-surgical eye
Indications:
This product is recommended to be used in the case of symptoms of dry eye, and dryness, irritation or redness of the eye (as a result of weathering, heating, air conditioning or long watching TV or sitting in front of a computer).
Usage:
used topically. Dispense into each conjunctival sac 1 drop x 2-3 / 24.