---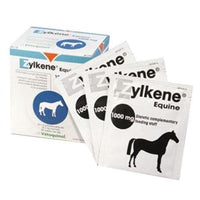 Sale
ZYLKENE
®
EQUINE, ZYLKENE Equine Result Feed Powder for Horses
diet supplementary feed (powder) for horses to reduce stress reactions
Trypsin-hydrolysed cattle casein
ZYLKENE Equine Result Feed Powder for Horses Composition
Maltodextrin, casein, (trypsin-hydrolysed cattle casein). Easily digestible feed materials: maltodextrin and casein.
ZYLKENE Equine Result Feed Powder for Horses Analytical components:
crude protein 19.5%, moisture 6.5%, crude ash 4%, sodium 1.1%, crude fat 1%, crude fiber 1%, magnesium 0.005%.
ZYLKENE Equine Result Feed Powder for Horses properties
To reduce stress reactions in horses. Recommended for horses that are exposed to daily stressful situations or before foreseeable stressful phases such as changes in the environment, delivery horses, change of supervisor, shoeing, transport or all situations in which the usual routine is changed. Zylkene
®
Equine is not a substitute for a balanced diet.
Note:
For participation in competitions according to FEI regulations, the requirements of 'controlled medication' must be observed.
Feeding instructions
Horses <500 kg: 1 to 2 sachets per day.
Horses> 500 kg: 2 to 4 sachets per day
For oral administration. Give the contents of a sachet with a small amount of food. The recommended amount should be given complete with a feeding. Offer water for free consumption.
Recommended feeding time: 2-4 weeks. It is recommended that you seek the advice of a veterinarian before extending the feeding time.
Information as of November 2020