---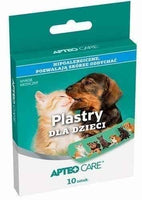 Sale
Apteo Plasters for children dogs and cats is a hypoallergenic product for dressing wounds and abrasions. The patches are soft, and a special micro-perforation provides the skin with fresh air. The package includes 10 patches with a size of 72mm x 25mm.
Operation of Apteo Patches for children dogs and cats:
Hypoallergenic plasters for dressing minor wounds, abrasions and cuts. Due to the fact that the patches are soft, flexible, elastic and gently adhere to the skin, they do not cause discomfort and provide freedom of movement. Special micro-perforation allows the skin to breathe freely. The plaster is a mechanical barrier and protects against contamination. The advantage of the product is the high absorbency of the dressing. Apteo Patches for children dogs and cats are recommended for the youngest, because each patch has pictures of dogs and cats printed on it (safe dyes were used in the production).
Application:
Apteo Patches for children dogs and cats recommended for dressing minor wounds and abrasions.

Additional information:
Store the product out of reach of children at room temperature. It is recommended to protect against the effects of moisture and light.
How to use Apteo Patches for children, dogs and cats:
For external use only. Single-use product. The patch should be applied to the cleaned and disinfected wound. The dressings should be changed daily.
---